Gentoo Vs FreeBSD – Available Packages, Community & Other Resources
Other considerations you might want to take into account when comparing one OS to another (especially when they are Unix-like) may often include the amount of packages available to install – after all, what will you do with an OS that isn't compatible with the software you need.
You might also be interested to know how big or how newbie-friendly does its community is – in case you'll need their support.
And lastly, what resources are available to you as a user of that specific distro.
Gentoo
According to Gentoo's website, the distribution currently has more than 37,118 packages available to install from source (ebuilds), that is, compared to OpenSuse's 54,595 which has the largest packages repository as of current.
The number of available pre-compiled packages is, however, considerably smaller and stands at about 17,929 packages.
With regards to its community, Gentoo's community has a reputation of being one of the most patient and user-friendly communities that Linux ecosystem has.
In terms of numbers, it's hard to tell, however their forums are currently counting over 143,834 registered users.
But this number doesn't probably reflects the current community size, rather, it's the running total of all Gentoo's forum members over the years.
In the case you encounter any issue upon using Gentoo, the forums are also one of the best places to look for support, though since Gentoo is part of the greater Linux community, sometimes your questions may be answered by another Linux community and all you need is to google for them.
Other resources to look for answers includes the website wiki as well.
Advantages: Pleasant community, solutions may overlap with other Linux distros, larger number of packages available to install from source
Disadvantages: Small number of pre-compiled packages

Community Size: large
FreeBSD
According to FreeBSD official website, the number of available ports under FreeBSD currently stands for 24,064 ports.
The pre-compiled available packages number is slightly smaller and stands at 23,715 packages.
Once again, the size of the community can only be speculated, however it's perceived to be the largest of all BSD distributions. Its forums are counting 27,226 currently registered users.
Although the size of FreeBSD's community is not as big as those you may find with certain Linux distributions, it might be not the quantity but the quality which should matter to you the most.
FreeBSD has a reputation of having a highly knowledgeable community, people which are very devoted to their cause.
Looking for assistance may be done either by asking on the forums or using the website wiki.
Advantages: Very knowledgeable community, large number of pre-compiled packages available for installation
Disadvantages: Smaller number of source packages

Community Size: Largest of all BSDs, yet smaller than popular Linux distros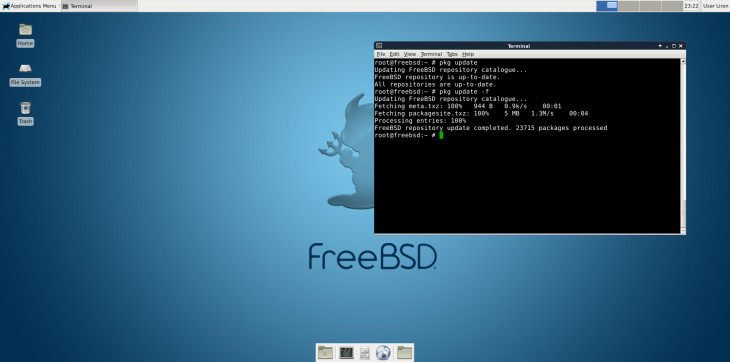 Are You Red or Purple?
Ultimately, both Gentoo and FreeBSD are great OSs on their own right, each has its strengths and weaknesses and better yet each is highly geared towards tweaking and extorting the most you can out of your hardware.
However, preferring one over another is, for the most part, a subjective matter.
In case you have made a choice or have any experience with one of them, don't be shy sharing your thoughts and feelings with the rest of the world via the comment section below.