Major improvements under the hood along with a UI facelift to its overall appearance, is what the next version of KDE Plasma Workspace plans to bring.
Some of these Major improvements are:
Plasma Next Features Highlights
Underlying Technology
Built using QML.
Runs on top of a fully hardware-accelerated graphics stack using:

Qt 5
QtQuick 2
OpenGL(-ES) scenegraph
UI Improvements
Homerun – a reimplementation of what originally debuted as 'Homerun Kicker' – the Application Menu widget.
New Breeze Plasma theme – a flatter, cleaner looking and less visual cluttered theme.
Oxygen Font – KDE's own font.
Functionality Polish – many of Plasma's default apps, such as: system tray area, window manager, the notifications and many more are among those who received much needed polish.
Looks like great stuff are ahead of us right? though you might want to take it with a little pinch of salt, since KDE team also doesn't neglects to say – there will be less features in Plasma Next comparing to the current Plasma version:
"Plasma Next … will not provide feature parity with the latest 4.x release… The team is concentrating on the core desktop features first, instead of trying to transplant every single feature into the new workspaces…

This is not because the Plasma team wants to remove features, but simply that not everything has been done yet. Of course, everybody is encouraged to help bringing Plasma back to its original feature set and beyond."
Give it a try
If you're into experimenting ("playing") with Plasma next a bit then there are several ways you can go about doing so:
Download the Neon5 ISO, a live OS image updated with the latest builds straight from source.
See if it's available on your distro's unstable packages list.
Download from source and install using the following instructions.
And remember! your feedback might be very important so don't forget to report bugs and perhaps join the discussion on the Plasma Next KDE forums.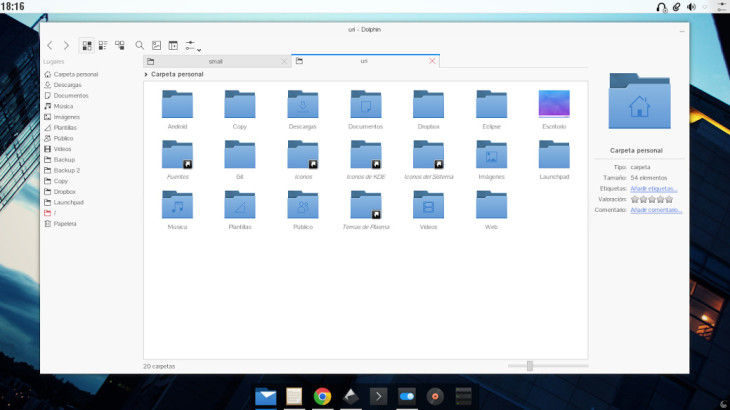 Breeze theme image from: wheeldesign