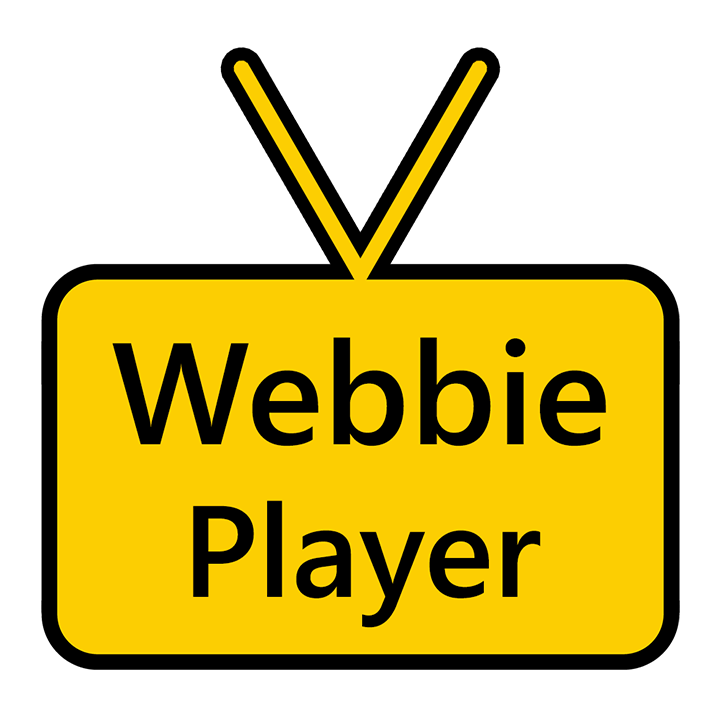 Help other people decide, vote up or down?
Description
Webbie Player is a Kodi add-on, which enables you to watch tv online if you are a television consumer at the internet service provider XS4ALL, KPN or Telfort. This is not an official add-on made by XS4ALL, KPN or Telfort but developed by Arnold Vink, use this add-on at your own risk. Webbie Player requires the following: Kodi 18 or newer, InputStream Adaptive add-on and your subscription login details.
News
v1.19.0 (29 Juli 2022)- Gister gemist vervangen door programma gemist.v1.17.0 (9 December 2021)- TV Gids is nu een verticale lijst.- Zap popup toont nu ook zender namen.v1.16.0 (31 Oktober 2021)- Instelling toegevoegd die eerder programma informatie kan uitschakelen.v1.15.0 (9 April 2021)- Check om te kijken als gebruiker buitenshuis is toegevoegd.v1.14.0 (29 December 2020)- Stream spoelbalk toegevoegd voor muis gebruikers.v1.12.1 (3 November 2020)- Instelling toegevoegd om bij verlaten Kids pagina een pincode te vereisen.v1.12.0 (2 November 2020)- Gister Gemist pagina toont nu alle beschikbare programma's.- Kids pagina toegevoegd met alleen series en films voor kinderen.v1.11.0 (23 October 2020)- Series pagina toont nu ook series uitgezonden in de afgelopen week.v1.10.0 (21 October 2020)- Sport pagina toegevoegd met uitzendingen van de afgelopen week.- Film pagina toont nu ook films uitgezonden in de afgelopen week.v1.9.12 (5 Augustus 2020)- Zoekgeschiedenis toegevoegd op de zoek pagina.v1.9.0 (30 Juni 2020)- De add-on werkt nu zowel met Kodi 18 als Kodi 19.v1.8.0 (25 Juni 2020)- U kunt nu ook aangeboden films en series kijken.- U kunt nu ook zoeken naar een programma.v1.6.8 (13 Maart 2020)- U kunt nu een dag selecteren in de TV Gids.v1.6.5 (2 Maart 2020)- De TV Gids toont nu als een programma niet beschikbaar is.v1.6.0 (3 November 2019)- U kunt nu spoelen met de linker en rechter pijltjes toetsen.v1.5.0 (23 Mei 2019)- U kunt nu ook alle geplande series in een lijst bekijken.v1.4.5 (2 Mei 2019)- U kunt nu ook alle geplande opnames in een lijst bekijken.v1.4.0 (1 Mei 2019)- U kunt nu ook televisie zenders markeren als favoriet.- De TV Gids laat nu ook een aantal uur terug zien.v1.3.8 (18 April 2019)- U kunt nu ook de tv zenderlijst in meerdere stijlen weergeven.v1.3.0 (12 April 2019)- U kunt nu langer terug spoelen tijdens het kijken.v1.2.0 (16 Maart 2019)- U kunt nu uw eigen achtergrond afbeelding gebruiken.v1.1.0 (10 Februari 2019)- U kunt nu ook programma's opnemen en terug kijken.v1.0.2 (5 Februari 2019)- Programma alarmen werken nu ook als Webbie Player gesloten is.v1.0.1 (30 Januari 2019)- U kunt nu Webbie Player automatisch starten bij het opstarten van Kodi.v1.0.0 (22 Januari 2019)- Experimentele ondersteuning voor het nieuwe web tv systeem.- On Demand pagina toegevoegd, zodat u programma's terug kunt kijken.v0.9.0 (5 November 2018)- U kunt vanaf nu de volume in stappen regelen.v0.8.5 (19 September 2018)- Help pagina toegevoegd met handige tips en weetjes.- U kunt nu een slaap timer zetten voor het einde van een programma.- Geoptimaliseerd voor gebruik met Kodi versie 18.v0.8.0 (30 Augustus 2018)- U kunt nu makkelijker een alarm zetten voor volgend programma.v0.7.2 (11 Augustus 2018)- Widevine ondersteuning wordt nu automatisch geinstalleerd.v0.7.0 (9 Augustus 2018)- U kunt nu ook een alarm zetten voor aankomende programma's.v0.6.2 (6 Augustus 2018)- Slaap timer functie toegevoegd die apparaat kan afsluiten.v0.6.0 (2 Augustus 2018)- U kunt nu ook een zender selecteren door nummers te gebruiken.v0.5.2 (31 Juli 2018)- Info wordt nu weer gegeven voor de geselecteerde zender in de speler.- U kunt nu een zender terug door op de terug spoel knop te klikken.v0.5.0 (29 Juli 2018)- Zender balk toegevoegd aan de player interface.- TV Gids op televisie pagina vernieuwt nu automatisch.v0.4.3 (27 Juli 2018)- Programma's die later komen...
How To Install
Direct installation
Via Repository
Via Directory
Download the addon.
Open up Kodi and navigate into Add-ons.

Click the open box icon (above the side-menu).

Select Install from zip file.

If this is the first addon you install, Kodi will warn you about installing addons from "unknown sources" for security reasons - it's your call.
In any case, Kodi will warn you, you may not get auto-updates for this addon.

Navigate into the location where you've downloaded the addon to and select it to Install.
For a full installation guide please click here.
Additional Information
| | |
| --- | --- |
| Updated: | March 14, 2023 |
| In Repositories: | |
| Platform: | all |
| License: | Not specified |
| Depends On: | |