Cardapio can be added by right clicking on the desktop then selecting Control Panel from the menu > clicking Cardapio Menu > dragging it to the dock.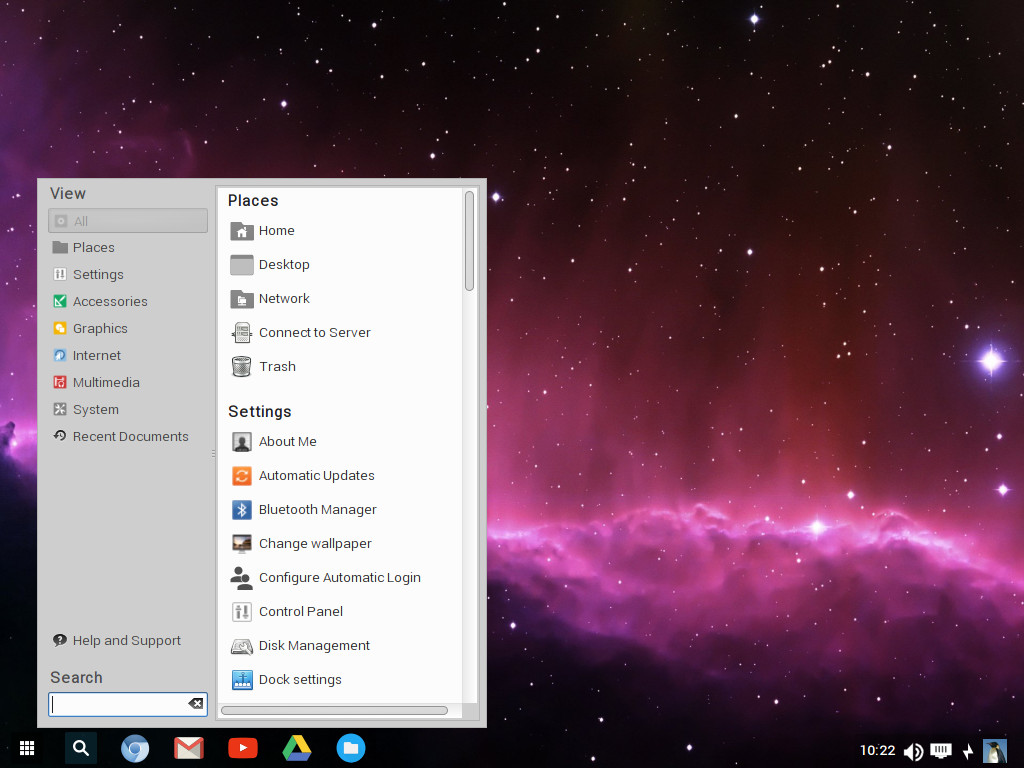 Other customization and expansions such as, changing theme, install more codecs, etc… are all available right from the Control Panel, which, as mentioned previously, can be accessed by right clicking the desktop and selecting Control Panel from the menu.
Performance & Specs
In terms of performance and specs it seems that Chromixium is a bit of a mixed bag, both literally and figuratively.
Chromixium appears to be comprised of various Linux components and not one single complete set.
What do I mean? Well, Chromixium appears to be comprised of various Linux components and not one single complete set.
It has parts from LXDE, XFCE, GNOME and also some standalone components all merged together by default.
It has LXAppearance from LXDE, Xfce Power Manager, Files (file manager) from GNOME, Plank, Compton and Openbox which are standalone software.
Nevertheless, despite all the different sets of apps and dependencies which come along with it, Chromixium still manages to stay lightweight and to perform responsively, for the most part.
In terms of disk space, the OS only uses about 2.8 GB by default and if you're interested in RAM usage details, on my hardware it revolved around 306 MB at rest.
Nonetheless, despite its lightweight and selection of fine tools, some apps were reacting surprisingly slow or funky.
For instance, the Chromium App Launcher always took a couple of seconds (for the very least) to open, and I assume it's because of Compton's compositing rules that it didn't always displayed on the same place on the screen (window opens under mouse).
Seeing the work being done by the developers so far though, I assume issues such as these will be sorted out somewhere along the forthcoming releases.
Aside from that, you may or may not care that Chromixium 1.5 is based off of Ubuntu 14.04 LTS version, has the latest Xorg 1.16 and is running on kernel 3.13.
Note About Upgrading
A less thrilling announcement for current Chromixium users with version smaller than 1.5. According to the official website (link below), 1.5 has to be freshly installed – upgrade is not possible.
If you do not wish to reinstall though, you may update to Service Pack 1 which includes many of the 1.5 version improvements, such as: faster applications menu generation, bug fixes and more.
"This release requires a fresh installation. If you are running Chromixium 1.0 and do not want to reinstall, please install Service Pack 1 which includes many of the above improvements. More service packs may be released in future"
Download Chromixium
Chromixium 1.5 stable version is currently available only in 32-bit arch. Luckily, 64-bit users can run 32-bit apps and not vice versa.
So although it won't be optimised for that architecture, 64-bit users still can install Chromixium if they like.
On the other hand, 64-bit RC version is available if you wish to give it a try.
Both versions are available on the official website which you can get to by clicking the button below.