Help other people decide, vote up or down?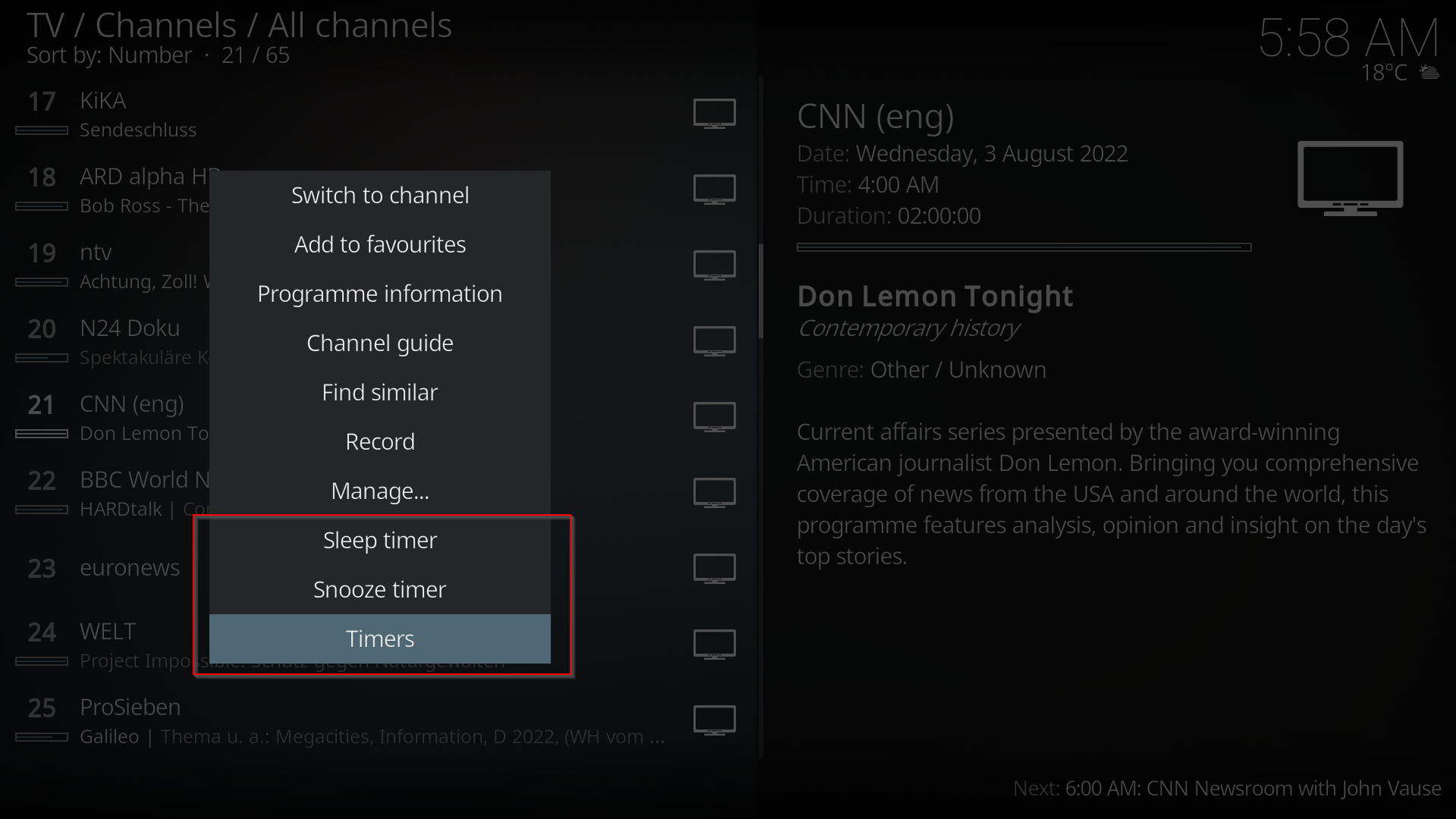 Description
A powerful timer addon with the following features* 15 timer slots. All of them can be quickly set up by using context menu* 2 additional slots for sleep and doze timers with single-click-setup * Timers can play any ressource that it available in Kodi, e.g. music folders, video files, TV/radio programs, slideshows, ressources from 3rd party plugins, e.g. Zattoo channels. * Timers can be set from TV / Radio EPG, One-click-setup from epg (Quick Timer)* Different schedule modes: once, everyday, Mon-Fri, Fri-Sat, Sat-Sun, Sun-Thu, Mon-Thu, specific weekday and many more* Date change is supported, e.g. from 23:30 (p.m.) until 1:30 (a.m.) * Shuffle, repeat, 2 end modes, i.e. duration or specific time* Actions related to media: start media and stop at end, just start media, start media at end, stop media immediately, stop media at end, powerdown system* Linear fading in timer period: fade-in, fade-out, no fading. Min and max volume can be set for each timer* Custom label for timer* After KODI startup timers, that are in period, start retroactivly altought KODI was not running at start time. Fading volume is calculated correctly.* Feature in order to prevent that display is turned off if Kodi idles but is not in fullscreen mode* MS Windows only: Feature in order to prevent that Windows displays lock screen if Kodi idles
News
v3.1.0 (2022-05-26)- Added feature in order to schedule slideshows, program/script addons and favourites- Free selection of weekdays- Added feature for shuffling playlists- Improved resuming, e.g. in case of media that is shorter than timer- optimization and bugfixes, e.g. preview of playlists / folders- covered and proved many timer scenarios and functionality with unit testsv3.0.0 (2022-04-12)- Support folders and playlists for scheduling, (feature request https://github.com/Heckie75/kodi-addon-timers/issues/7)- Separated configuration of media and system actions, e.g. shutdown Kodi- Enable resuming media that has been stopped after timer has finished- Enable repeating media and playlists- Refactoring (rewrite of scheduler)v2.1.2 (2022-02-09)- Device wakeup (Issue #6): Explicitly activate CEC Source before player startsv2.1.1 (2022-01-29)- Improved behaviour after update addon. No need to restart Kodi anymore after update- Improved prevention lock screen, no restart of Kodi required anymore after setting has changed- Refactoring: Usage of modern Kodi API (read and write settings)- Added timer actions, i.e. quit Kodi, suspend system, hibernate system, shutdown system- Minor bugfixes, e.g. displayed wrong timer no. in some dialogs
How To Install
Direct installation
Via Repository
Via Directory
Download the addon.
Open up Kodi and navigate into Add-ons.

Click the open box icon (above the side-menu).

Select Install from zip file.

If this is the first addon you install, Kodi will warn you about installing addons from "unknown sources" for security reasons - it's your call.
In any case, Kodi will warn you, you may not get auto-updates for this addon.

Navigate into the location where you've downloaded the addon to and select it to Install.
For a full installation guide please click here.
Additional Information
Updated: May 28, 2022
Platform: all
License: MIT