If you like using VLC on your computer, you'd most definitely like using it on your mobile device.
VLC for mobile brings many of the perks you're used to from the PC version plus a very nice and useful user interface to go along with it.
So what features does the mobile version carry?
VLC For Mobile Highlight Features
Plays most local video and audio files, as well as:

Network streams (including adaptive streaming).
DVD ISOs like the desktop version of VLC.

Has a media library for audio and video files, and allows to browse folders directly.
VLC has support for multi-track audio and subtitles. It supports auto-rotation, aspect-ratio adjustments and gestures to control volume and brightness.
It also includes a widget for audio control, supports audio headsets control, cover art and a complete audio media library.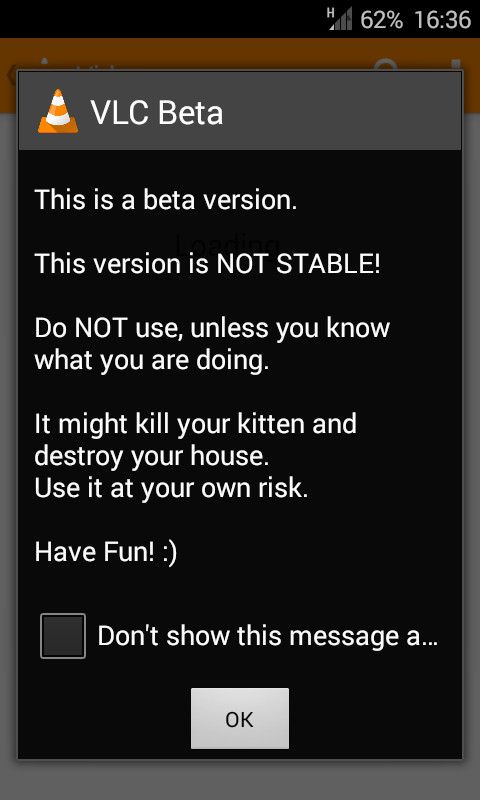 Besides all the technical features mentioned above, it's also worth noting that the developers have done a marvelous job with the UI, adjusting it perfectly for the mobile smaller screen.
All of course without changing a thing regarding the desktop app. convergence! isn't it great?
On Android, since it's still a BETA version, VLC doesn't comes without its warning, e.g. this is the message you see on the first time you run it on your device (following image).
However, fiddling with the app for the past few days on my Android device (Samsung Galaxy), it feels quite stable and no significant quirks were encountered.
Nevertheless, Android has many different devices with multitude of different architectures, thus your millage may vary.
Install VLC On iOS or Android
If you're interested in checking out the mobile version of VLC, you may do so by clicking on the one of the appropriate following links:
Lastly, check out the nice video depicting VLC's passion to break away from being a desktop only app, and expand to other platforms ;)