This is not the first, nor it's the only project dedicated to serve a Google product with an open-source twist.
For instance, I can think of at least two more projects with a similar affinity, just off the top of my head: Quantum OS (now Papyros) and Android-x86.
Perhaps this is reflecting the uncertainty or the lack of trust people feel towards the giant company, or maybe, on the other hand, it goes to show that Google really manages to create some interesting stuff that people find inspiring.
Be it whatever it may be, those individuals which try to follow the "Google path" are certainly faced with a challenge.
Can Chromixium Transcend Its Inspirer?
Or, can one man / a group of few developers reach the same level and maybe even outperform a company of thousands employees?
At first sight, it may seem impossible. However when taking into account that Google itself relies on open source software too, it turns out it just might be feasible.
Installation
With its latest version (1.5), Chromixium has added itself a nice and simple installer called "Ubiquity" (Ubuntu's installer) which make it pretty much a breeze to install.
Boasting at features such as automatic hardware detection, better language support and support for encrypted home and LVM partitions, you'll probably find that it isn't much trouble to set it up on your hardware.
One thing you'll surely note when installing Chromixium is that, unlike many other Linux distributions, Chromixium makes sure to present you with terms & conditions prior to installing it.
It adds some sense of professionalism, and is apparently there, at least partly, due to the fact Chromixium ships with Adobe Flash out of the box.
Aside of a small typo I've noticed, the installer seemed to work well and ultimately did the job it was meant to be doing.
First Impression
Since I already booted up to the "Live CD" environment prior to installing, I basically already knew what to expect.
For some users nevertheless, especially those that aren't familiar with Chrome OS concept and what it aims for, Chromixium might probably seem a little limited. Beautiful, but limited.
And that's because, to begin with, the system is mainly geared to be lightweight and networking oriented.
This approach is expressed in a limited selection of software pre-installed on your system by default. Although more software can be obtained pretty easily if one's wishes to.
The programs that you will have installed by default though, are basically the ones which require Internet connection in order to function, yet some others are available too.
Software such as Google Drive, Google Docs, YouTube app, which are essentially all web apps, Chromium web browser (open source version of Chrome), etc… are enjoying the priority, in terms of accessibility and visibility in comparison to other "offline" programs.
if you find yourself having an older machine which you only use to browse the web, consider Chromixium as a viable mean to improve your daily experience.
So, if you find yourself having an older machine which you only use to browse the web, consider Chromixium as a viable mean to improve your daily experience.
Another thing conventional desktop users might find a little odd in first glance is that in order to show the more complete menu, the one with all the apps and settings in it, you'll need to right click the mouse button anywhere on the desktop for it to show.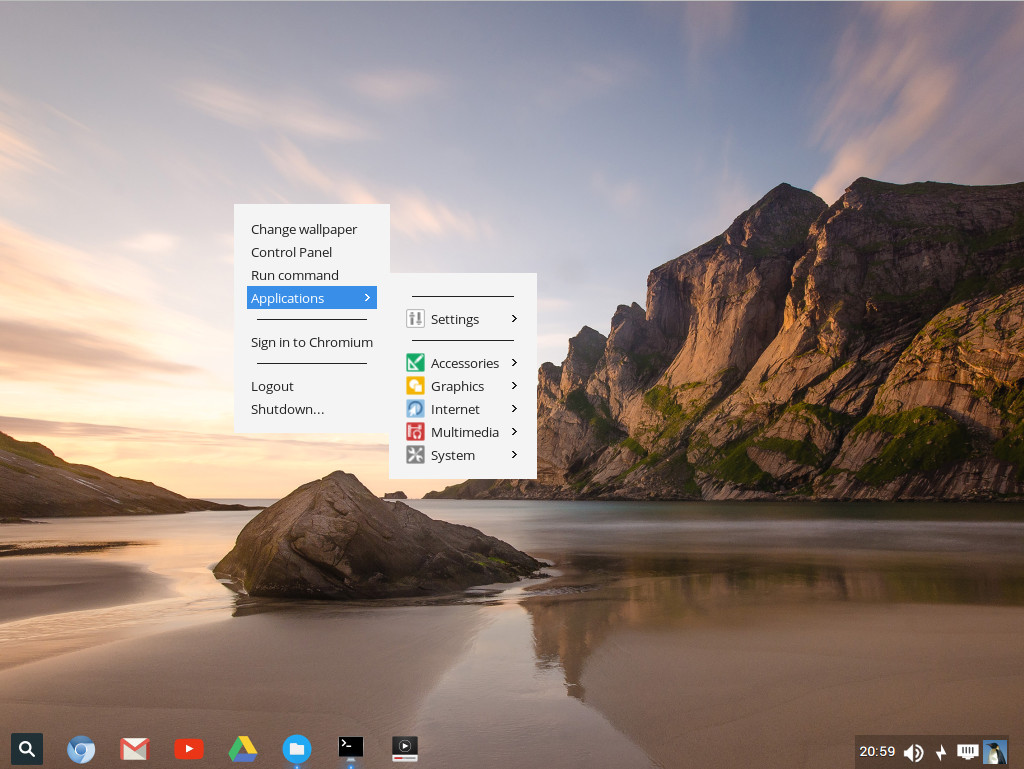 Though, this can be configured differently as well. (more on that later)
However, since Chromixium is built on top of Linux, namely off of Ubuntu if you want to be more specific, it also holds the power that comes with most other Linux distributions.
Expanding / Customizing Chromixium
If you find the defaults too limiting to your taste, there's no need to compromise.
You can install more software through Synaptic Package Manager or via Chrome Web Store.
You can change the look and feel by adding more launchers to Plank dock (the transparent Taskbar) or by changing a wallpaper (Chromixium comes with a selection of wallpapers installed by default).
For instance, a nice addition you may want to add to your dock is the Cardapio Menu (see image) which acts similarly to the conventional Start-Menu.