Significant Improvements In Files, Boxes & Polari
Files application has gained some interesting new features in this release, such as:
A new search feature has been added to open and save dialogs. (automatically activated by typing)
Long-running operations (such as copying or moving large numbers of files) now have a button that shows progress in the headerbar.

A new entry called "Other Locations"

has been added to the

sidebar

, it provides a useful overview of local and network locations.
Recursive search is now automatically disabled when searching remote locations, in order to prevent performance problems.
Context menus can now be accessed using a touch screen — to activate, just press and hold.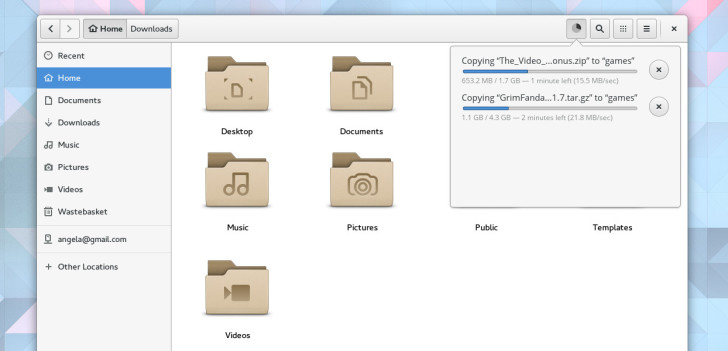 Boxes – GNOME's virtual machine emulator has become more powerful by gaining a few more features:
A new list view shows more details.
Force shutdown and restart actions are easier to access.
A new option makes it possible to force a box to keep running, even when it is not in use.
The IP address of boxes is now shown beneath their thumbnail.
Polari, GNOME's IRC application, has gained a number of refinements: Paste service integration has been added, better first run experience which guides you through the process of creating connections, better indicators for new messages and improved feedback for connection errors.

Google Drive Integration In Files
GNOME 3.18 lets you access Google Drive directly from the Files application, as well as from file chooser dialogs.
In order to use the feature, simply add your Google account through the Online Accounts settings, and Google Drive will automatically appear in the files places sidebar.
Firmware Updates Through Software
Thanks to a new initiative called the Linux Vendor Firmware Service (LVFS), it is now possible to update device software (such as your computer's BIOS) under GNOME.
The LVFS is fully integrated with GNOME 3.18, and works automatically. If an update becomes available for your device's hardware, Software (app) will automatically make it available to install the same way as other software updates.
This can also be used to update the device software on removable devices, such as monitors, USB hubs and color colorimeters.
New Applications: Calendar & Characters
Calendar, which was initially introduced as a preview in 3.16, is designed to be consistent with other GNOME 3 apps, and to be fully integrated with GNOME 3.
The initial feature list is simple and straightforward, including month and year views, search, ability to add calendars from files and remote calendars from URLs, online accounts integration, and event viewing and editing.
Characters provides an easy way to find and use a variety of characters in your documents and communications, such as punctuation marks, bullets, currency and mathematical symbols.
Characters makes it easy to find interesting characters through different categories of characters. It also remembers which characters you have used in the past, in order to make it quick and easy to use them again.
App Preview: To Do
To Do is a new application that is being released as a technical preview in GNOME 3.18.
It is a simple and personal task manager.
Of course, there are also many other smaller changes and bug fixes as well.
If you wish to see it in action, here's a video introduction to GNOME 3.18:
Get GNOME 3.18
The latest GNOME version is currently available as a live ISO built on top of OpenSUSE.