Since Mint appeals to both experienced and newbie Linux users, this review will try to focus less on tiny technical details and more about functionality, user friendliness, innovation and so on.
Starting with its new features, here's what Mint 17 has to offer:
Linux Mint 17 Feature Highlights
Update Manager – has gained: general speed and appearance improvements, simpler and more informative kernel update section (available under "View") plus a new "Type" column to differentiate between traditional updates or others. 

Drivers Manager – now able to install drivers without a connection to the Internet (using installation medium as source).
Login Screen – improved multi-monitor support, the greeter now comes with HiDPI support, a new recovery command has been added (in case the GUI doesn't load for example).

Language Settings – a new "Language Settings" tool replaces "Language Support" / "Regional Settings" and unifies locale management for all D.Es.

Software Sources – a few UI and usability improvements.

Welcome Screen – redesigned and no longer uses webkit.

Cinnamon 2.2 – a better looking and improved "Settings", improved: hot corners, HUD, menu and window manager.

System Improvements – shutdown sequence got fixed, Hexchat replaces Xchat as the default IRC client.

Artwork Improvements – completely revamped Mint-X theme.

Main Components – Cinnamon 2.2, MDM 1.6, a Linux kernel 3.13 and an Ubuntu 14.04 package base.

LTS Strategy – Linux Mint 17 will receive security updates until 2019.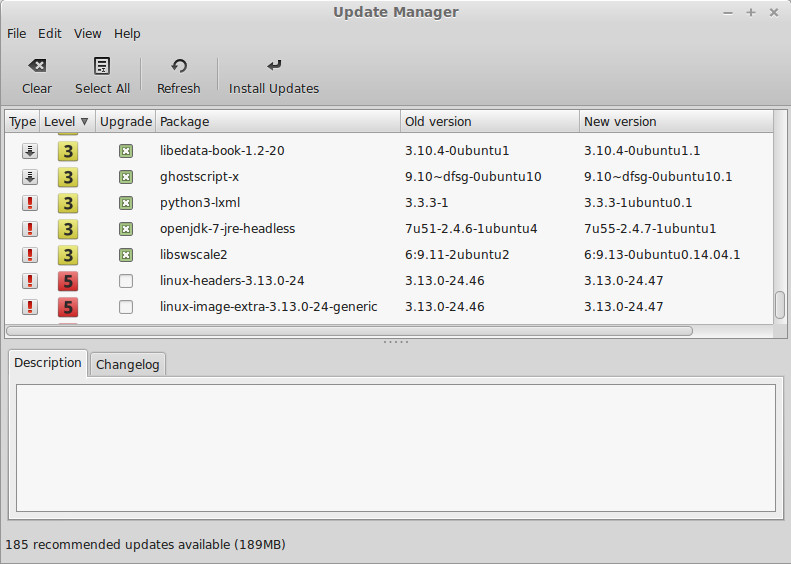 That's a pretty big highlights list isn't it? yet it doesn't necessarily reflects a major overhaul was made.
Author's Experience
So, although on paper it seems that Mint has changed a lot, the fact is it doesn't really feels that way, and perhaps that's for the better.
Mint feels very stable and polished and seems hard to break (in case you're in the mood…), most everything works the way it should and I'm tempting to say that yet another Mint version hasn't let me down (stability wise).
It's pretty light on resources (416 MIB when resting), slick and fast, boots very quickly and aside of few tiny quirks here and there, I'm actually quite pleased with it.
Even the Firefox + h.264 issue that was supposed to be "borrowed" from Ubuntu, seems to have no affect on Mint, awesome!

[Historically, Mint was forked out of Ubuntu with a clear main goal on its mind – to provide multimedia support out of the box (it's even still mentioned as one of the reasons for Mint's success on their about page).]
So, as far as multimedia goes it seems you can rely on Mint to do the job.
However, not all sunshine and roses…
What I'm lacking the most about Mint is, a bit more innovation, more sense of daring if you will, because it's starting to feel a bit redundant.
I mean, what does Mint offers me that other OSs (not just Linux distros) don't? the next paragraph will further explain what I mean.
Look Out Windows, Behind You…
As time goes by it seems that Mint is shaping up quite nicely to serve as a replacement for Windows OSs, In other words, people who comes to Linux from a Windows background would presumably appreciate Mint a great deal.
That said, you should probably take it more literally than it may sound, i.e:
The way I see it Mint is reminding me more and more of what the traditional Windows OS used to be like by both looks and feels. (unlike Windows 8 which should change its name to Tiles :) )
This can be a good or a bad thing depending on how you look at it. In my taste, this feels a bit redundant – if I wanted to use Windows then I'd go straight to Windows.
I guess there are certain routes you just can't avoid when growing in number of users and devs.
Albeit on the other hand Windows is now changing and soon there won't be any supported remnant of the great non-mobile desktop focused age. So it's nice to know that someone still care about desktops.

Should You Consider Switching to Mint?
All in all this last stable version of Mint is not much different than its predecessors, the added features will probably won't affect the average user's experience much.
Thus, in case you have tried Mint in the past (one of its latest versions – 15, 16) and you felt it wasn't for you, then this version will probably won't make any difference either.
If you feel adventurous, and like to distro hop every once in a while, see what other distros has to offer – check out Mint, you won't regret it.
In case you're a Windows user (coming from Win XP, Vista or 7) who's looking for a friendly Linux distribution to begin with – go for Mint, it's practically there for people just like you.
Should you Upgrade?
By all means – yes, you should, since Qiana brings not only a bunch of new features but also many bug fixes and security updates. All that while it doesn't detract from the overall stability and performance features.
Download Mint
Different variations of Mint (Cinnamon, MATE, LMDE…) are available for download on Linux-Mint's official website.