"Flirting is a game" says the developers who created Elimi, and if you're bored with other dating services like Tinder and such, you might want to try a new "playground"…
How Does Elimi Works?
As mentioned earlier, Elimi is all about playing games and have fun while at it in order to get to know new people, this is how it goes:
A girl starts a game with a task > guys join and show off in answers > girl eliminates one guy after each task > after maximum 3 tasks there is only one "best" guy left >> The winner and the girl can connect and chat freely.
Now, if you're a guy you probably thinking: "why would I want go through all that just for a chance to chat with a girl?"
Well there are many answers for that question, aside from the banal: 'you're a guy, that's what you do!'.
But perhaps the most suitable one in this case is that you get to know the girl while both of you are having fun, which may lead to stronger connection. it's a win-win situation, unless you're eliminiated ;)
On the other hand, girls might really be into this App since it make guys work harder in order to connect with you, and you're always in control of who's eliminated and who's not.
Bottom line is – all should simply have fun!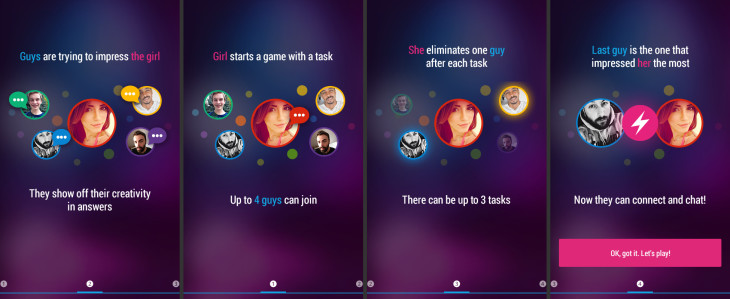 Download & Install
Elimi is available for both iOS and Android devices and it makes use of the GPS technology built-in your smart device in order to connect with people near you.
To download and install Elimi, choose the corresponding link for you: