When the GNOME team had released their latest desktop environment, Gnome Shell 3.12 into the world, they've brought new features and more polish along with it.
However, they also took one, small, yet infinitely important feature out – the playlist pane.
An Interactive Playlist View
Many Linux media players are incorporating a way to view and arrange your playlist items so you could opt to watch one video after another without the need of clicking and moving your mouse again and again.
As surprising as it might sound… such basic functionalities you've grew up on, were primarily available on Linux only by using Totem
Some media players such as VLC for instance, allow for different views – one dedicated for the playlist and another for the video itself – and all can take place under the same window or separately (but not together).
Others, such as Gnome-Mplayer and alike, are offering to enable a playlist pane to the side of the window but are lacking an important functionality a lot of people came to be used to as part of any modern D.E. – Drag & Drop (manually ordering the playlist simply by dragging the entries one below another).
As surprising as it might sound to many users who have migrated to Linux using the Windows route, such basic functionalities you've grew up on, were primarily available on Linux only by using Totem (Gnome Videos) player.
Alas, apparently and also unfortunately it seems that the latest release of Totem has brought an end to that too by eliminating the option to view playlist whatsoever.
Thus, up to now those kind of features had considered redeemed from the Linux user-land as a whole, that is unless you've somehow found-out about QMPlay2.
The reason I say "somehow found-out" is because QMPlay2 is not part of any distro I know of by default and is hardly ever mentioned on any forums talk.
QMPlay2 Media Player
QMPlay2 not only allows you to both watch your videos and rearrange the playlist while at it (all in the same window of course), but also unlike Gnome-Mplayer, SMplayer or any other current Linux player (perhaps besides VLC) you can actually use Drag and Drop with your mouse to do your manual sorting of the playlist.
Moreover, as its name suggests, QMPlay2 is based upon Mplayer 2 project thus it carries support for all video file formats which are supported by Mplayer itself – this means you can play any type of video file you like. (correct me if wrong)
More features such as equalizer, YouTube integrated search and play, Internet radio and so on are also available and work quite well too as a matter of fact.
Download & Install QMPlay2
If its not available under your distro repository, QMPlay2 has a number of installation options:
First and foremost, you can download a self installing file, similar to Windows's exe files, which should work on both 32 and 64 bit machines.
Download the file via the following sourceforge link, select the latest version which ends with the suffix .run, drag and drop to terminal (no need for su/sudo) and hit enter. Enter your password when asked for it.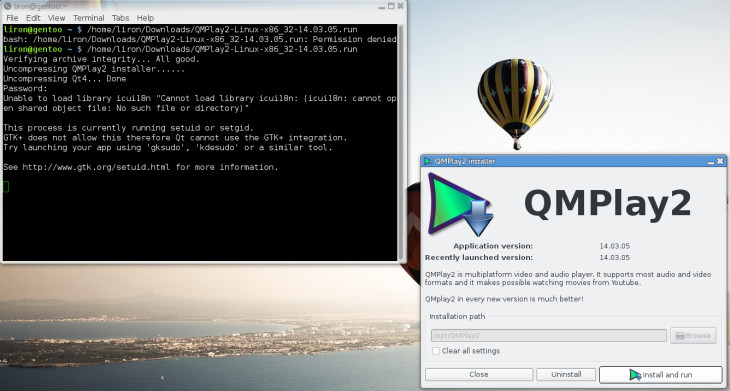 For power users, there's also an option to build from source in case you want more control over the process, download the latest tar.bz2 file from above sourceforge link and follow the install instructions inside it.
Here's the requirements list, make sure you have all the required packages in case you encounter any issues during the installation:
Requirements
qt4 or qt5 (including OpenGL)
portaudio (default on non-Linux OS, if you want to compile portaudio module on Linux, change "src/modules/modules.pro")
libasound (for ALSA module on Linux)
pulseaudio (optional, if you don't want to compile pulseaudio on Linux, remove it from "src/modules/modules.pro")
ffmpeg >= 1.2 (libavcodec, libavformat, libavutil, libswscale, libswresample or libavresample*)
libva (vaapi) and libvdpau – only on X11
DirectDraw SDK – only on Windows
taglib >= 1.7 (>= 1.9 recommended) (you can disable it in "src/gui/gui.pro")
libcdio and libcddb
libass
libxv