Install Pepper Player on Chromium
1. To install Pepper Player on Chromium you'll first need to download an official version of Google Chrome – this will enable you to obtain Google's Pepper player files needed for the task.Note that you're downloading the right architecture for your PC (32bit / 64bit), you may download the .deb package even if it's not compatible with your distro.
* In case you already have Google Chrome installed, you may skip to the last step
2. After downloading Chrome, extract the file you've just downloaded by right clicking on it and selecting extract from the menu.
3. Now go inside the folder you just extracted and again extract the file named data.tar.lzma.
4. Navigate inside the extracted "data" directory into data/opt/google/chrome you'll see a folder named PepperFlash – this is what we want, Now you'll need to copy that folder and what's inside it into /opt/google/chrome.Note that /google/chrome is not present at your /opt directory so you'll have to create it first >> the easiest way to do that would probably be to open a Terminal and type sudo <insert-your-file-browser-name-here>, then do all the rest as a privileged user, once done close that file manager.
[If your session crashes after su or sudo check out Quick Fix GNOME Shell Locked-Up]
5. Finally, open up Terminal and type: gedit /etc/chromium/default , Uncomment the line where it says CHROMIUM_FLAGS="" (by removing the #) and insert the following between the quotes:–ppapi-flash-path=/opt/google/chrome/PepperFlash/libpepflashplayer.so
Done! now restart Chromium and go to this URL: chrome://plugins/ to make sure the Flash plugin is active.
Install Fresh Pepper Player on Firefox
1. Download and extract freshplayerplugin, create a new folder inside it and name it build.
2. Open up Terminal and type: cd <drag-the-"build"-folder-here> press enter.
3. Now type: cmake ..(if it complains about "Configuring incomplete, errors occurred!", you might first need to install uriparser and libconfig packages, search for them on your default distro repository and install)
4. Next, type: make , when it finishes, check out the build folder, you'll see a file called libfreshwrapper.so, this file should be put inside /usr/lib/nsbrowser/plugins directory >> type in Terminal: sudo <insert-your-file-browser-name-here> and do all the rest as a privileged user.
5. The Fresh Pepper plugin relies upon Google's Chrome Pepper plugin. so follow steps 1 – 4 of the Chromium plugin installation (above) in order to complete the task.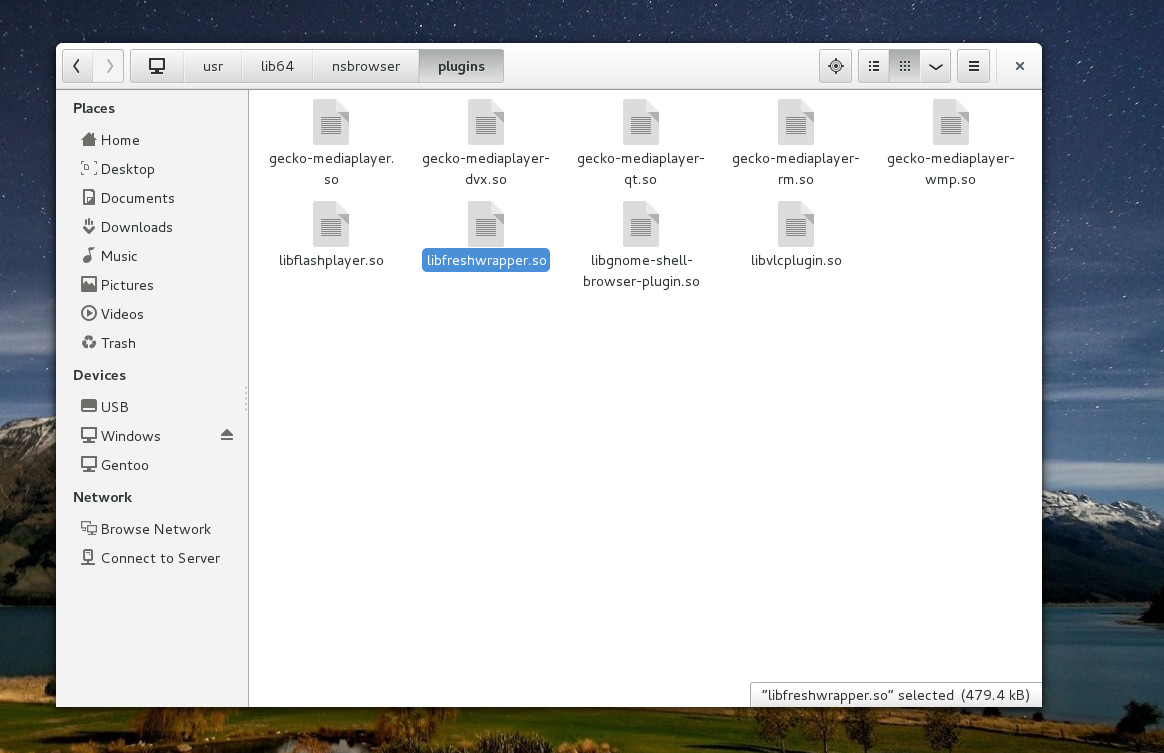 Note that the Fresh Pepper Player plugin is still under development thus it may not be completely ready for prime time yet, however in my testing up until now it gave me no serious issue or any crash for that matter.
So it seems the plugin gets better and better with time.
Lastly, if you'd like check it out, the plugin can be found on Github along with more info as well, if you're a developer or you have anything to contribute to the project, by all means give the page a visit, see how you can help.