It's possible that Microsoft has decided to skip a version number because the word "nine" in English resembles the pronunciation of the German word "nein" which means no or null.  Either that or they simply don't know how to count (Xbox 360 – > Xbox One) :) .
Whatever the reason may be, one thing is for sure right now, next version of Windows is going to be a lot more suitable for desktop, in particular – mouse, work than the former one.
The new approach, called convergence, towards its UI (user interface) had already been talked about numerous times on iWillFolo, thus there's probably no need to explain it again. If you want to know more simply visit one of the attached links.
So, what new stuff are we being presented with the current tech preview of Windows 10? let's find out.
Windows 10 New Features
According to Microsoft, these are the new features of Windows 10:
Integrated Start Menu – classical Start-menu is back, however it's now integrated with the new Metro style live tiles available for customization.
Everything runs in a window – Metro style Apps, such as those you install from Windows Store, now have title bar and decoration buttons (close, minimize, etc…) just like any ordinary App.

Snap enhancements – (image below) Apps can be arranged (snnaped) to any of the four corners of the screen plus "Windows will also show other apps and programs running for additional snapping and even make smart suggestions on filling available screen space".

New task view button – the second button form left, after the Start button, is used for quick switching between open windows or desktops (see Multiple Desktops feature).
Multiple Desktops –  i.e. Virtual Desktops will let you use different desktops for different purposes, for instance, you can use one desktop for work / office applications and another for home use.

Find files faster – File Explorer now displays recent files and frequently visited folders so you could access them quicker and easier.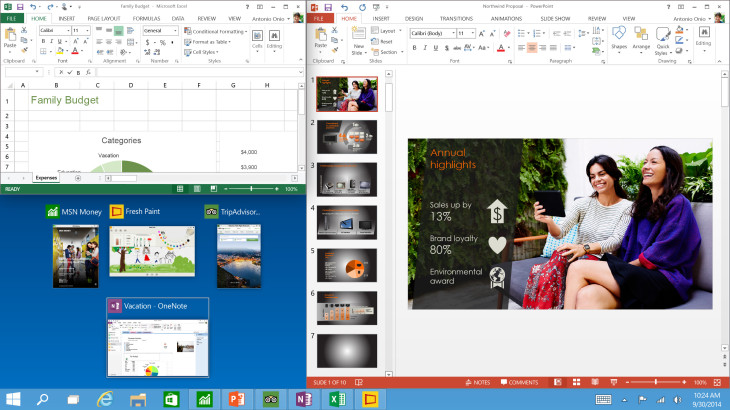 Help Shape Windows 10
Microsoft Windows 10 tech preview is at the doorstep now and is inviting you (in case you have the technical skills) to be part of its shaping factors by supplying your feedback and reporting bugs.
In the event you wish to try the tech preview, just click on the following link to join "Windows Insider Program" which will give you access to download, install and take it for a test drive.
Windows 10 – the best Windows yet
Check out the video below which explains a bit more about the technical preview from Microsoft prospective. Oh, and don't be shy to watch it twice – I had to, because the man's hair simply put me out of focus for the first time ;)
Source: blogging-windows