KDE users would probably be delighted to know that there is now a super-easy way to change each folder's color inside Dolphin file manager.
The extension is meant for a quick color changing of a specific folder or a selected set of folders simply by provoking the right click menu and choosing a color from the list.
For instance, you can change important folders to a certain color so you could easily spot them among the rest, or you could organize your videos / music / photos folder by using different colors for various genres / events.
Note that Folder Color is not meant to change the general color of your entire icon theme, for that purpose you can simply use a different icon theme such as – Ardis or Flattr…
How To Install Folder Color
It's actually quite easy, all you have to do is just download the extension, extract it and use the installation script which will do all the hard work for you. (as a matter of fact – it's not really hard at all – continue reading)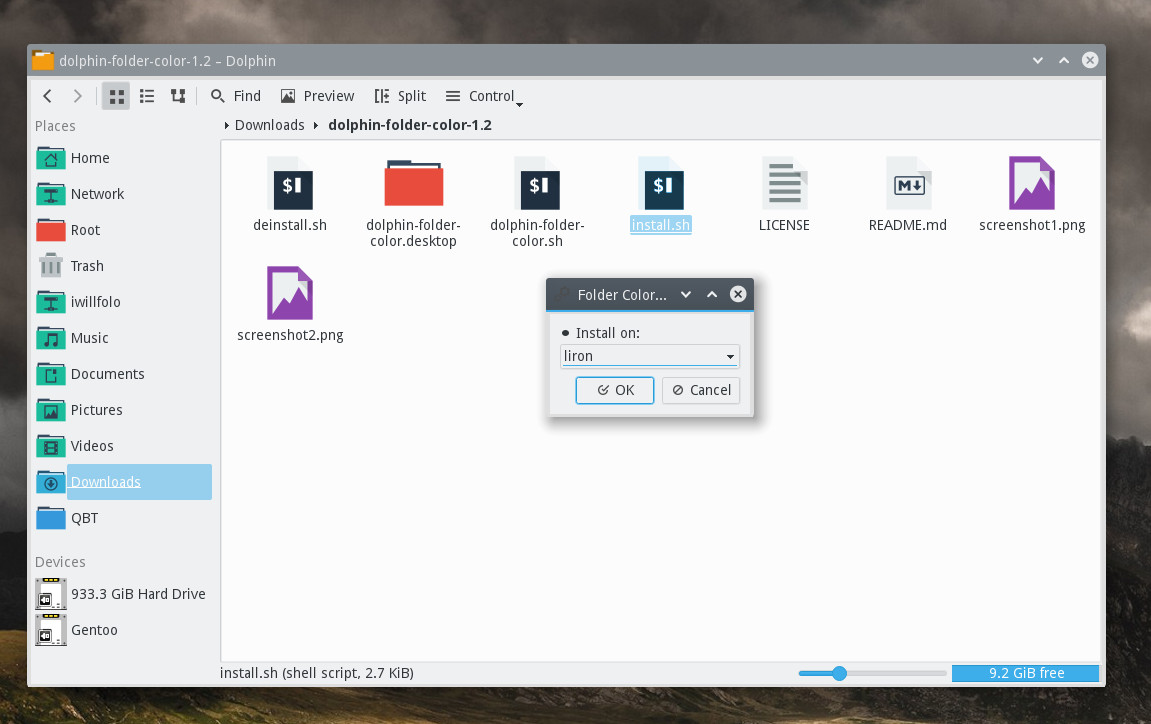 The installation script also allows you to choose whether you wish to install Folder Color as a specific user or as root for all users – in case you select root, a password prompt will pop up to authenticate the selection.
Furthermore, as you can see in the image above, the downloaded file also contain a deinstallation script so you could un-install it as easily as installing it.
Just in case the script didn't work on your distro for some reason, the manual way to install it is just copying the files – dolphin-folder-color.sh, dolphin-folder-color.desktop into the respective places:
For a specific user installation:
/home/<YOUR-USER-NAME>/.kde4/bin/dolphin-folder-color.sh
/home/<YOUR-USER-NAME>/.kde4/share/kde4/services/ServiceMenus/dolphin-folder-color.desktop
For all users installation (as root):
/usr/bin/dolphin-folder-color.sh
/usr/share/kde4/services/ServiceMenus/dolphin-folder-color.desktop
One last thing, after installing the extension, Dolphin needs to be restarted in order for it to start work, so don't forget to exit all your Dolphin instances first and only then launch it again to start use the extension.