Ever since the developers at Elementary OS decided to embrace Midori as one of their own, its development pace and style started to soar rapidly to the point where it can even compete with the current dominating browsers when it comes to looks and speed.
However, appearance and velocity aren't Midori's most noteworthy features, not in this case. The thing which makes Midori so unique among others, is actually its ability to be all that, together with being so amazingly lightweight at the same time.
Just so you could realize how incredibly lightweight Midori is, compared to the rest of the bunch, here are some installed-package sizes I took from my own Gentoo-Linux installation (see why I use Gentoo), showing you the weight of each browser package after it has been installed. (not including dependencies)
| | | | | |
| --- | --- | --- | --- | --- |
| Browser | Midori | Chromium | Firefox | Opera |
| Size |  2.10 MiB |  103.22 MiB |  58.06 MiB |  33.88 MiB |
Yes, your eyes are not mistaking, it really is weighing only 2.10MiB, this is not a typo! Amazing isn't it? no wonder it comes as a default along with lightweight XFCE D.E. and of course with Pantheon (eOS D.E.) too.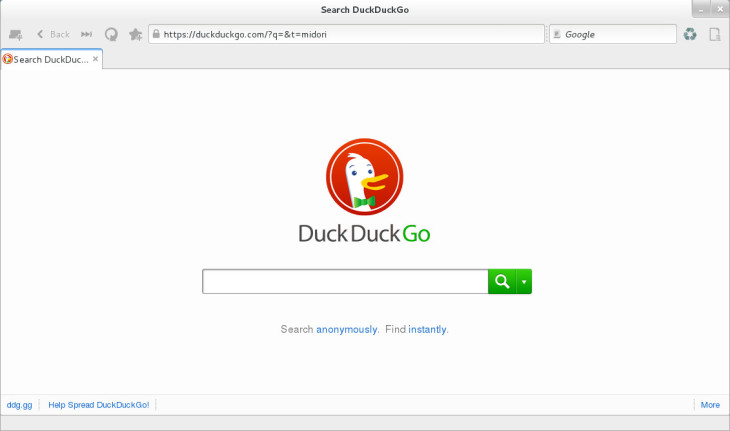 Other great features included in Midori are: GTK+ 2 and GTK+ 3 support, Speed Dial tab, Supports HTML5, Extensions of its own, Private browsing and it also uses DuckDuckGo as a default search engine.
One thing to note though, Adobe flash player might not be set straight out-of the box for you, on your specific distro, however a little search around the web should yield you the appropriate solution.
Besides that, the Midori web-browser has a lot to offer, thus, if you're a Linux user (but not only) looking for lightness and simplicity, I advise you to give Midori a try, you won't regret that you did…