If you ever encountered a situation where you wanted to watch a movie, TV show or even just listen to some music but were limited or perhaps completely rejected just because you live on a specific side of the globe, then you'll surely appreciate what UnoTelly has to offer.
Websites such as Netflix, Hulu and Spotify are just a small yet obvious examples for streaming services that may be denied from you, either partly or entirely, just because they hadn't reached a satisfying agreement with a common local media provider in your area.
Nevertheless, as the saying goes – "Where there's a will, there's a way", and people have already found ways to bypass these aforementioned restrictions.
Some of them are legal while others aren't, if you want to place UnoTelly somewhere along this scale, then you'll probably find that it falls under the legal category, although it does span over a lot of grey area. (more on that later)
What Does UnoTelly Provides?
The Tools
Basically what UnoTelly does is provide you with two different primary tools that help you conceal the real location you're surfing from by going through their own servers.
The first tool we're talking about here is UnoDNS – a DNS (Domain Name System) that is configured to route your browsing through UnoTelly's network thus tricking services such as Netflix, BBC iPlayer and more to think you're surfing from another country.
Despite it may sound a bit sketchy, it still is in line with the terms of legal use, since there's no law that forbids of doing that, as of current.
The advantages of UnoDNS mainly lies in that it only affects the streaming services they support, thus your normal browsing remains unaffected and you can still enjoy locally optimized browsing, such as getting relevant search results according to your location.
Another advantage is that unlike other services out there, there's no bandwidth limit and no "middle-man" in your way, thus you can stream content with your full Internet speed. (you're welcomed to test it yourself)
The second tool UnoTelly offers is called UnoVPN (VPN = Virtual Private Network) and it's basically suited for users who travel a lot and browse under networks that block DNS services (hotels, wifi hotspots, etc…).
UnoVPN is the more secure option of the two since it masks your IP address to appear as if you are connecting to the Internet from the U.S or U.K.
However, the extra security may also prompt speed reduction since by masking your I.P there's now a server in between you and the content and not just a "pipeline" as in the case of UnoDNS.
Another important thing to consider regarding using UnoVPN is that downloading torrents using UnoVPN service is not allowed and may cause your UnoTelly subscription be terminated for violating the terms and conditions of use.
Except for the primary tools mentioned above there's also another tool called UnoDNS Dynamo which essentially lets you switch the region you're seemingly surfing from in favor of getting better selection of titles or better suited subtitles.
So for instance, you can be in Canada and watch Netflix from U.S, U.K, Brazil, etc…
The Channels
UnoTelly currently provides more than 370 channels from all sorts of networks and places.
The channels offering movies, TV series, TV music and also radio music as well, and can all be accessed through a very simple and intuitive interface available on UnoTelly's website.
Following is a short, summarized list of some of them:
ABC Family
BBC Sport
Beats Music
Cartoon Network
CNN
Comedy Central
Disney Channel
HBO Now
MTV US
National Geographic
NBC
Sky News
More…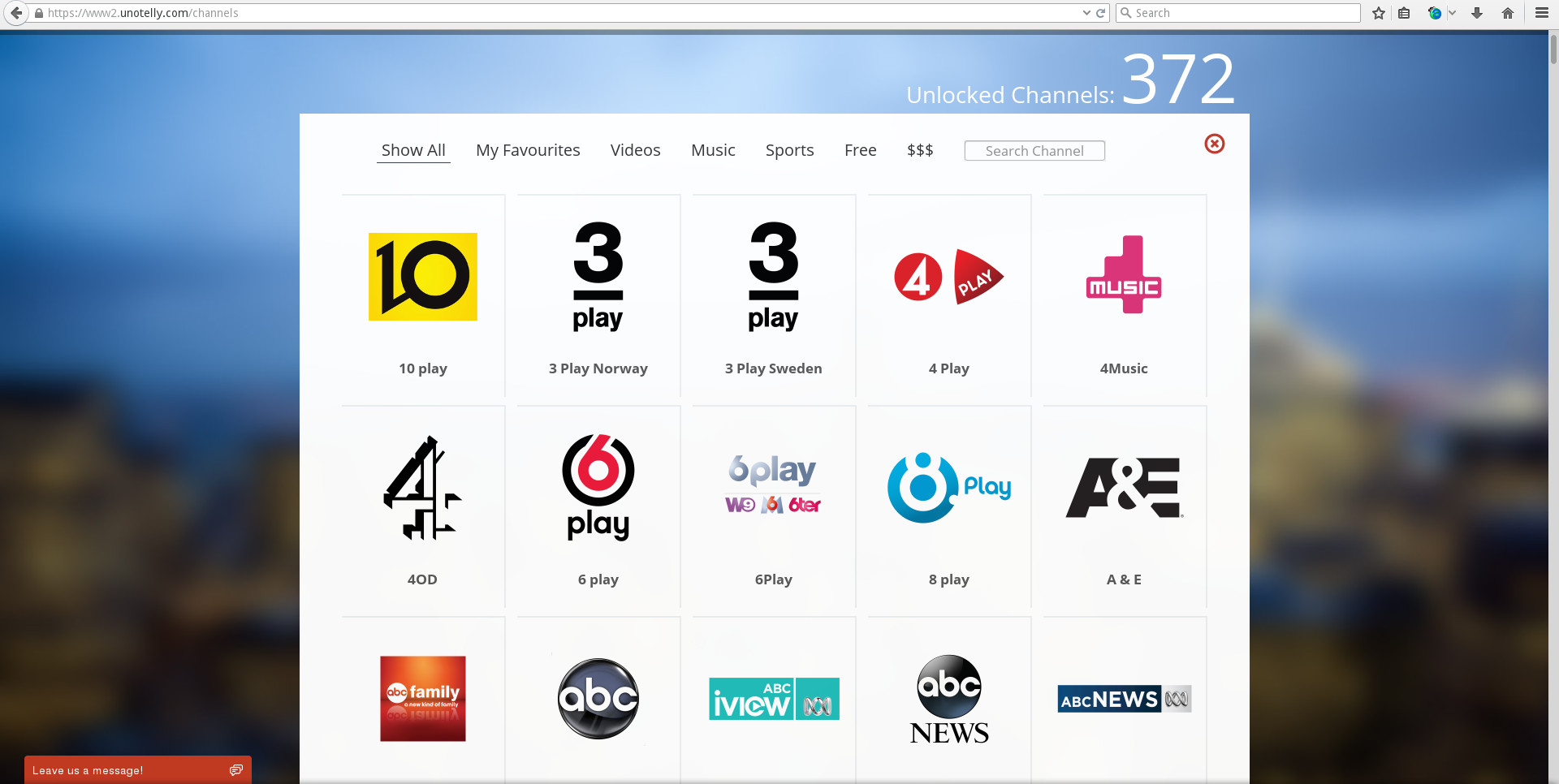 Nonetheless, one thing that UnoTelly doesn't neglects to mention regarding its services is that if a certain channel / Network / streaming-service require you to sign up prior to viewing their content then you'll still going to have to do that, regardless of the fact you've already signed to UnoTelly.
Remember, UnoTelly can remove geolocation blocks but cannot sign up to other services for you.