If you think Telegram is WhatsApp Messenger's best alternative then it might be high time you reconsider.
Wiper Messenger brings you a WhatsApp-like chat with some of the same features WhatsApp has and more.
The thing that sets Wiper apart from the rest of the messaging Apps bunch though, is that it makes privacy a first class citizen like no other App currently does.
For instance, besides the innovative ability to erase (or better say wipe :)) messages / photos you've sent at any time you like, there's also a feature which prevents you from taking screenshots of the App (Android).
Or, in case you did (iOS) it automatically sends a message to the person on the other end, in the event the screenshot was taken from within a conversation.
Now that WhatsApp has been bought by Facebook in a billions of dollars deal, it might serve as a good alternative for those who fear Facebook would hold too much of their information.
Of course, Wiper comes with more great features besides the ones mentioned above, so let's take a moment to list some of its most noteworthy features.
Wiper Feature Highlights
Message and call[1] your Wiper Messenger contacts anytime.
Calls are encrypted and Wiper keeps no call log.
Tap "Wipe" to erase a chat from your phone and your friend's phone, instantly[2].
HD sound quality on secure calls.
Know instantly when your messages are read. (WhatsApp has recently started incorporating this as well, though you can opt out)
Get an alert if a friend takes a screenshot of your chat.
Privately search YouTube for music and other videos, watch or share them via the in-App player.
That's about sums it all up, though Wiper doesn't neglects to mention two important things you should prbably be aware of:
Like any other app you use, your network data charges may apply.
No app can fully prevent or alert you to all attempts by a recipient to save your message, such as attempts made using a separate device or special software to capture the message.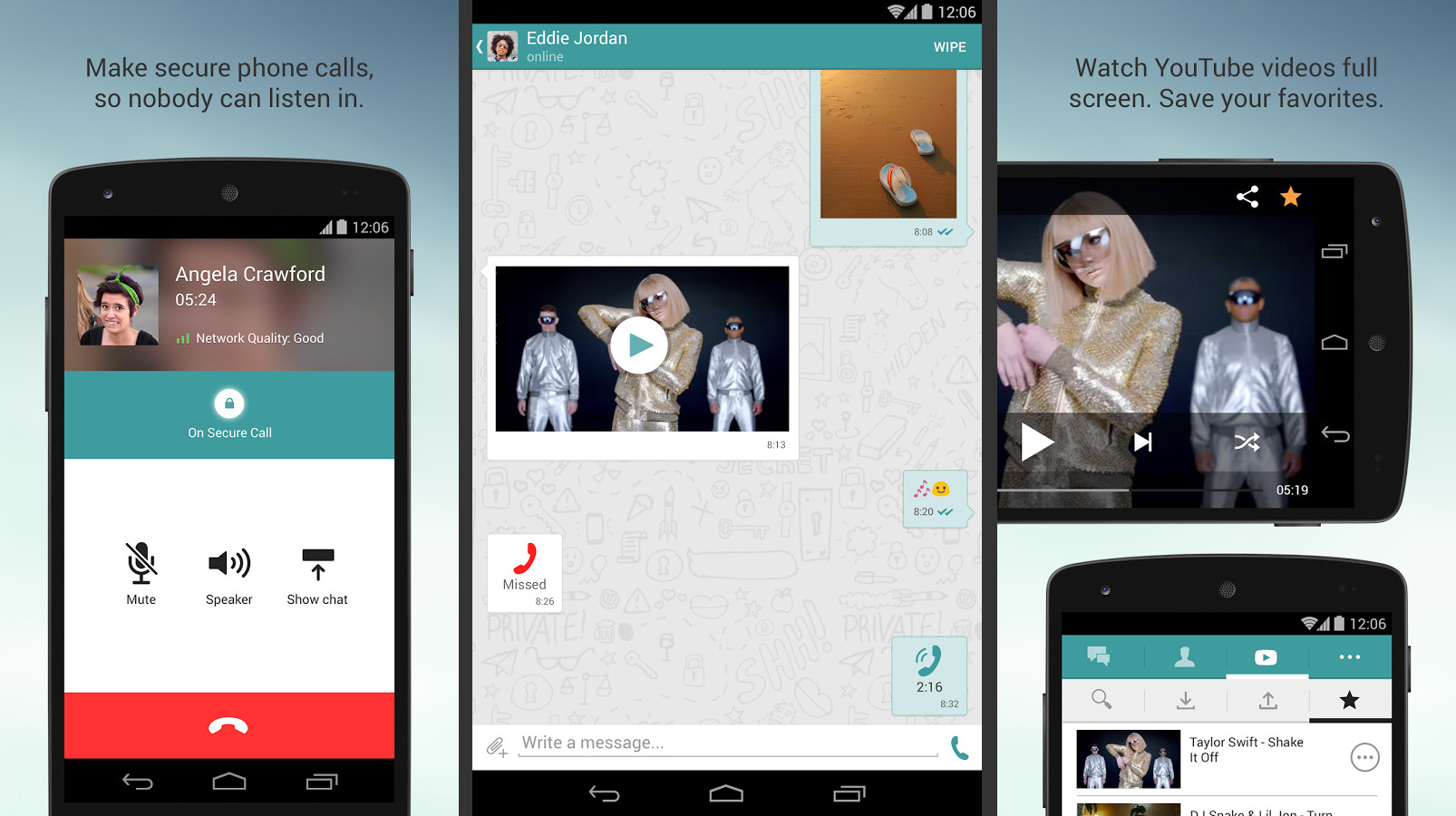 Personal Thoughts
After taking Wiper for a short spin, I must say I really felt the App is  practically on par with other Apps in the same field: WhatsApp, Telegram, Snapchat, Facebook Messenger, etc…  And perhaps even has a slight edge over some of them.
Although I very much appreciate Wiper's attitude towards privacy and security, one thing kept bugging me through the whole time – Wiper took my privileges!
Despite the fact I can fully understand why Wiper would want to deprive me of the ability to take screenshots, in some way, it felt more of a privacy invasion than if it didn't (since the device is mine and I should have full control over its functions).
Of course, this would probably less be bugging (or not at all), had I used an iOS device as a testing bed.
Nonetheless, this of course may not be an issue for many of you out there who actually looking to take comfort in the fact such an App makes it harder to invade your privacy.
Final Thought
Whether Wiper is going to ultimately take over WhatsApp (the most popular mobile messenger) user base is yet to be clear, but one thing is for sure – it's good to have it as an alternative.
Download Wiper
Available for both iOS and Android devices the App can be fetched via the respective links: