Faster, More Secure & from wider range of Devices
According to Telegram's FAQ, unlike WhatsApp, Telegram is cloud-based and heavily encrypted app, thus it can be accessed from a wide range of devices, including desktops! [Expect an article on that too See WhatsApp Competitor Telegram is Now Accessible via All 3 Major PC Platforms]
It can be used to share an unlimited number of photos, videos and files (doc, zip, mp3, etc..).
Moreover, Telegram uses a multi-data center infrastructure and encryption which makes it also faster and way more secure than its competitor/s.
yeah but… is it Open Source?
Telegram's home-page says it is a free app: "Telegram is free forever. No ads. No subscription fees."
It also says that it's Open: "Telegram has an open API and protocol free for everyone. "
However, if you'll note it says nothing about being open sourced or what type of license it's using, so it can be quite confusing.
Now, upon digging a little bit deeper, you can find the following (also on the FAQ):
"Q: Why not open source everything?

All code will be released eventually. We started with the most useful parts — a well-documented API that allows developers to build new Telegram apps, and open source clients that can be verified by security specialists."
Thus, a promise to eventually release all code under open source license is here granted publicly.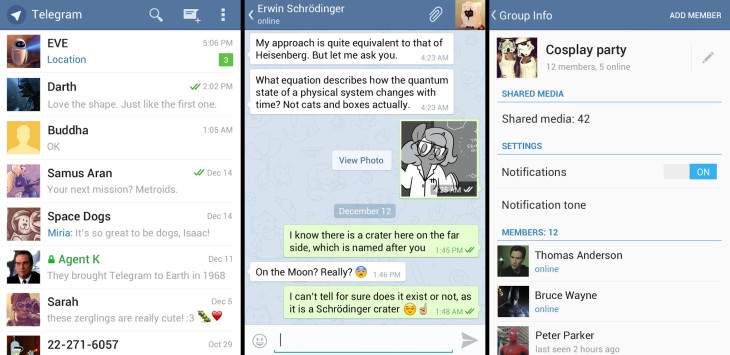 Finally, is it feature comparable with WhatsApp?
For the most part – yes, Telegram has almost every feature WhatsApp has and more. They even look almost exactly the same, only with a different color theme.
One thing, for example, I found not existing in Telegram but is in WhatsApp is the "Hide last seen" feature, which until recently wasn't actually available for Android users, hence this How-To.
Yet a bunch of other features which does included in Telegram and some of them aren't in WhatsApp are:
Telegram Highlight Features
Conversations are encrypted with the MTProto protocol developed by Telegram.

Chat history is stored on Telegram cloud servers

and can be accessed from any number of devices.
Has mobile versions, desktop versions and browser extensions.
Can send voice notes, photos, videos, and files of all types.
Groups for 200 members.
Secret chats with end-to-end encryption that are not stored on the servers.
Auto-destructing messages in secret chats (like Snapchat).
Message read status: 1 check = sent, 2 checks = read (opened).
Although personally, I'd view the 'history stored on servers…' feature as one I'm less comfortable with, you can't just disregard the advantages of having the ability to access your conversations from any device you'd like.
Plus, it also has the Secret Chats and Auto-destructing messages features to compensate in case you're, like me, care not to have your history data at reach by another person's hand.
Therefore, for all the reasons and features mentioned above Telegram seems to have the upper hand over WhatsApp Messenger, yet perhaps now that WhatsApp has been bought by Facebook we're going to see a change in this trend. Although on the other hand – maybe not…
Download Telegram