The latest and greatest from Microsoft's factory is now officially released, however, in order not to stress Microsoft's servers, upgrades are scheduled to occur in waves.
The first to get it will be those who installed the preview version of Windows 10.
Next will be those who ordered the upgrade through Microsoft's website and have installed the "Get Windows 10″ app beforehand.
Lastly, all the rest of users who own a genuine copy of Windows 7 and above.
So, if you find that you still haven't got any upgrade notification, it probably means that you'll have to practice a bit patience and wait for your turn…
Or you could just use the following guide instead !!!
[ In case you're unsure whether you should install / upgrade to Windows 10, perhaps this will help you decide:  Windows 10 Available From July 29, Should You Upgrade / Switch? ]
Upgrade Windows 10 Now
1. Head over to Microsoft's Windows 10 download page, read the requirements first, then click the button corresponding to your machine's architecture. (most modern PCs are 64-bit)
Upon clicking the button, you can either run the program straight away if your browser ask you to, or, you can download and then launch the program.
2. Once launched, the tool shall offer you 2 options – Upgrade and Create installation media.
In this guide we shall choose the upgrade option. Simply select the option and click next to begin the upgrade process.
3. At this stage, the tool will start downloading Windows 10 and installing it automatically for you. All you'll need to do is basically accept the terms and conditions and following the instructions given you by the installer (click install Windows 10 when prompted to).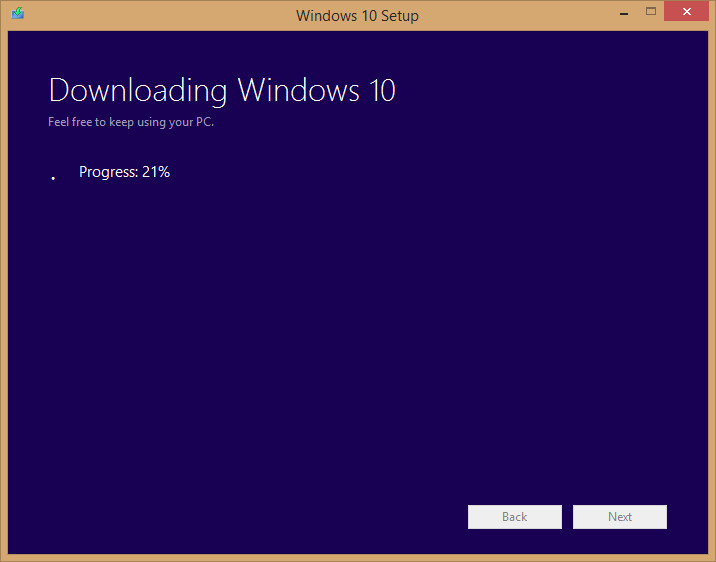 Note: if you're running this tool from a genuine Windows 7 or later version, you shall not be prompted to enter an activation key.
However, in case you do see a prompt for activation key, any of the following Windows 7, 8, 8.1 and even 10-preview version keys should suffice in order to get the installation running.
4. The upgrade process should take approximately the same time as it takes to install any of the recent Windows versions (for me it took about 40 mins).
At the end of it, after the first boot, let Windows find and automatically install all the drivers needed to get your system running properly and smoothly as you expects it to.