III) Download Stuck / Is At X%
Upon downloading / updating SportsDevil, you may in some cases encounter a situation where the download progress stalls at X% (= some number, often times zero percent).
Once again, the issue may be caused due to a wide range of reasons, most of them stem from the client side, that is your side, the reader.
Now, please don't take the above sentence as a deny of responsibility.
In some cases, it may be caused by a misconfigured server for example, however statistically, it's more likely that one server will be properly configured than the large number of clients who downloads from it.
III) Overcome Download Stuck / Is At X%
Overcoming the 3rd issue may require you to reinstall the addon and its repository all over again. It all depends on the nature of the symptoms you're having.
If you haven't identified any issues regarding your Internet connection, i.e frequent disconnections or very low download speed for instance. Or if you aren't aware of any unusual Kodi configuration being set on your Kodi box, then you may want to try the following:
Due to Kodi's caching mechanism, it may sometimes persist on downloading an old file which no longer exists on the server.
In order to cope with that issue, the most simple and straightforward way is to uninstall the addon (in some rare cases it may also be wise to uninstall the repository you've downloaded it from), then restart / reboot Kodi and then, reinstall all over again.
Tip: once you've uninstalled the addon, it's a good idea to make sure the old SD package is completely removed (from Kodi's cache as well) prior to reinstalling. Hence you may want to look for the package inside your Kodi-packages folder which can be found under the following path (depends on you operating system):
| Operating system | File/Folder Paths |
| --- | --- |
| Android | Android/data/org.xbmc.kodi/files/.kodi/addons/packages/ |
| iOS/ATV2 | /private/var/mobile/Library/Preferences/Kodi/addons/packages/ |
| Linux | ~/.kodi/addons/packages/ |
| Mac OS X | /Users/<your_user_name>/Library/Application Support/Kodi/addons/packages/ |
| Windows | Start, open "Run" app – type %APPDATA%\kodi\addons – press <Enter> navigate into: packages folder |
| Special protocol | /storage/.kodi/addons/packages/ |
Once you've found an older SD package, delete it (don't forget to restart afterwards, otherwise Kodi may try to re-download the same version you've just deleted).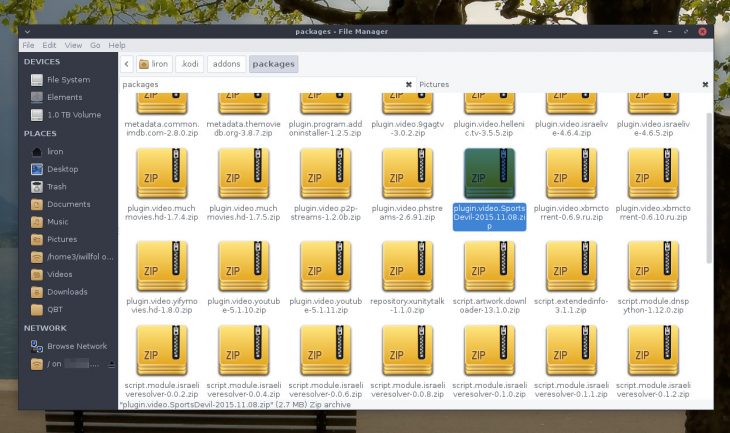 Alternatively, you can simply use Indigo addon's Maintenance Tools to clear the packages cache.
IV) Error: Failed to install a dependency
When installing SportsDevil or When updating the addon (remember Kodi may auto-update addons depending on how you've configured it), you may from time to time encounter a "failed to install a dependency" error.
IV) Fixing "Failed to install a dependency"
To fix "failed to install a dependency" error, please see the following guide which includes an extensive examination of the problem as well as how to solve it: