Avid XBMCtorrent users along with many others would probably be delighted to hear that a new addon, from the same author who created XBMCtorrent, is now available to install instead of the old and now defunct one.
During its lifetime, XBMCtorrent – as great as it really was – had [relatively] many issues that needed fixing in order for it to work properly.
Just here on iWillFolo, I had written 2 different posts that were meant to solve some of the issues users encountered with the addon: Fix XBMCtorrent Can't Get Inside Movies / TV-Shows List, Fixing XBMCtorrent [Errno 97].
However, it seems that neither of those issues or any similar one were the main drive behind its creator's urge to develop a new addon instead of it.
Apparently, it was actually the will to make it legal, that got Steeve Morin (XBMCtorrent maker) to create a new addon that will, in time, replace the old one.
Rise Pulsar
According to its author, Pulsar, unlike XBMCtorrent, doesn't go on torrent websites for legal reasons.
Instead it calls for specially crafted addons (called providers) that are installed separately. They are normal Kodi addons, and thus can be installed / updated / distributed just like any other addon.
These providers find and return a list of BitTorrent links, then they basically filter the links (removing duplicates & sorting by quality) and lastly, they send the chosen link to the BitTorrent streaming engine so you could watch them.
Nevertheless, as cool as it may sound and despite the fact that the project has already been in development for quite a while now, you should probably aware of that sometimes issues may still be encountered and some streams may not work properly.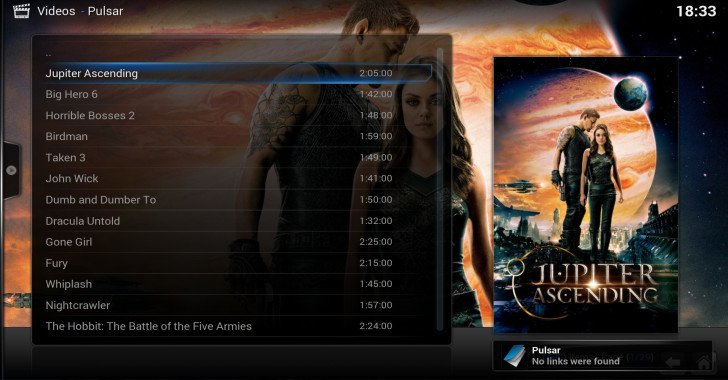 This is of course in my personal experience, yet your mileage may vary though.
Another important thing you should note about Pulsar is that in order for it to work you must also enable a couple of "Remote control" settings inside Kodi first.
To do that, simply go in Kodi's Settings > Services > Remote Control and enable both options you see there ("Allow programs on this / other system to control…"), then restart Kodi.
Download & Install
Note: Downloading or streaming copyrighted material may be illegal in your country. Use at your own risk.
Pulsar is available to download either in its source-code form, or as a zip file plugin ready to be installed, the link below will take you to a page where you can download its latest version.
To install from zip, simply go inside System >> Settings >> Add-ons >> Install from zip file.
Navigate into the location where you've downloaded Pulsar zip file and click on it to install!
Edit: if you wish to know how to get Pulsar to actually work, please check out – How to get Pulsar addon for XBMC / Kodi to work?! (With screenshots).